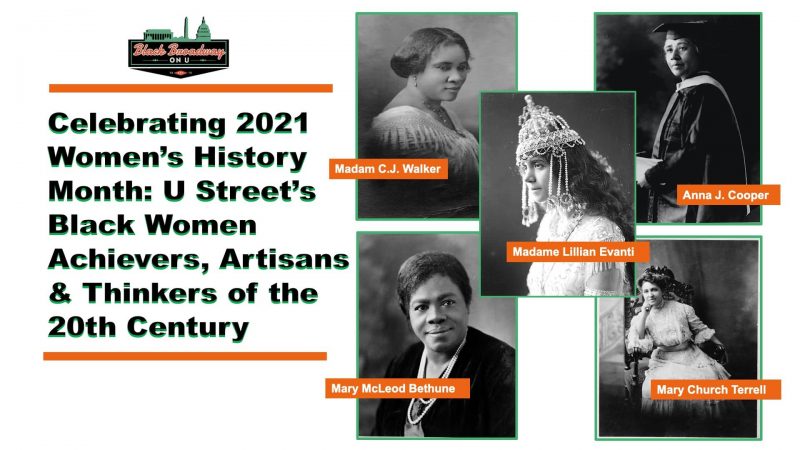 Celebrating 2021 Women's History Month: U Street's Black Women Achievers, Artisans & Thinkers of the 20th Century
In celebration of 2021 Women's History Month, the Black Broadway on U Project commemorates and honors a few pathbreaking and pioneering black women achievers, artisans, business owners and thought leaders who during the first half of the 20th century empowered and mobilized the greater U Street corridor's black community and the black community at-large.
Through the lens of D.C.'s famed photographer and documentarian — Addison Scurlock, the Black Broadway on U Project celebrates and reflects on a few of these leading and prominent 20th century black women: Mary Church Terrell (one of the first African-American women to earn a college degree and national activist for civil rights and suffrage), Mary McLeod Bethune (womanist, civil rights activist, educator and founder of Bethune-Cookman College and National Council of Negro Women), Anna J. Cooper (writer, teacher, and activist who championed education for African Americans and women), Madame Lillian Evanti (D.C.'s first lady of opera and the first black woman to sing opera with an organized company in Europe.) and Madam C.J. Walker (beauty entrepreneur and the first African American woman millionaire in the U.S. in 1913).
Mary McLeod Bethune (b. 1875-1955) laid the footprint of the ‪civil rights movement along the U Street/Shaw corridor in ‪Washington, DC. As a child, she was educated by missionaries in South Carolina. Her dedication to education led her to found the Daytona Educational and Industrial School for Negro Women in 1904, which later became Bethune-Cookman College. In 1924, she was elected president of the National Association of Colored Women, and later she founded the National Council of Negro Women, serving as its president. She became the first black woman to direct a federal office when she was appointed Director of Negro Affairs for the National Youth Administration in 1936. She worked as a consultant to the Secretary of War on the selection of the first female military officer candidates. In the 1930s, she consulted the United Nations on issues relating to racial affairs and understanding and founded with First Lady Eleanor Roosevelt the "Black Cabinet," which marked a critical step in the struggle for civil rights.
'Don't Buy Where You Can't Work' Protest! Mrs, Bethune pictured here with Mrs. William Hastie (wife of William Hastie, prominent D.C. Judge/NNA lawyer) picketing outside People's Drug Store (now CVS) at 14th & U with the New Negro Alliance (NNA) in 1940 demanding that the chain hire Negro store clerks who represented the majority of their business trade. The Washington, D.C. based organization, New Negro Alliance was headquartered in the #ustreet corridor and was founded in 1933 by mostly middle class blacks to use pickets, economic boycotts, and other direct action protests to promote #civilrights. It sought to increase African American employment opportunities, especially in white collar positions and to challenge discriminatory employment practices
"I got my start by giving myself a start." ~Madam C.J. Walker
Madam C.J. Walker (b. 1867-1919) was an African American entrepreneur, philanthropist, and political and social activist. Walker was "the first African American woman and self-made woman millionaire in America." She earned fortune from her homemade line of hair care products for Black women in the early 20th century. Born Sarah Breedlove to parents who had been enslaved, she was inspired to create her signature hair product, 'Madam Walker's Wonderful Hair Grower' after an experience with hair loss, which led to the creation of the "Walker system" of hair care.
Native Washingtonian Annie Lillian Evans (b. 1890-1967) , who would later become the famed lyric soprano superstar Madame Lillian Evanti, was the first African American to perform with a major European opera company with her debut in Delibes opera Lakme, in Nice, France, in 1925. Evanti was born into an affluent, historically significant family. The Evans family claimed a Revolutionary War soldier, two abolitionists who took part in the Harper's Ferry Raid, and the first African-American United States Senator among their ancestors. Evanti's own parents were well educated and accomplished; her mother Anne Brooks, a music teacher and her father, Dr. Bruce Evans, founder and principal of D.C.'s Armstrong High School. Evanti attended Armstrong Manual Training School and Miner Teachers College, and graduated from Howard University School of Music in 1917. The following year she and Roy W. Tibbs, her Howard University music professor, married and had a son, Thurlow Tibbs. In 1924, she left for Paris for further training and for better professional opportunities at a time when American opera and classical music companies refused to admit African Americans. A gifted student and performer, she was able to speak and sing in five different languages. Novelist Jessie Fausett, suggested she combined Evans and Tibbs to form the more elegant "Evanti," the name she would use professionally thereafter.
"The cause of freedom is not the cause of a race or a sect, a party or a class- it is the cause of humankind, the very birthright of humanity." ~Anna J. Cooper
Anna Julia Haywood Cooper (b. 1858-1964) was born a slave in Raleigh, North Carolina. Cooper dedicated her life to education. She was an American author, educator, sociologist, speaker, Black liberation activist, and one of the most prominent African-American scholars in United States history. She served as a teacher and principal of D.C.'s first public high school for black students — Washington Colored High School later known as the M Street School (now Paul Laurence Dunbar H.S. renamed for the poet). Upon receiving her PhD in history from the University of Paris-Sorbonne in 1924, Cooper became the fourth African-American woman to earn a doctoral degree. Cooper was also an organizer, an active participant of numerous organizations representing African American interests and a long-time LeDroit Park resident.
In 1898, Mary Church Terrell (b. 1863-1954) wrote how African-American women "with ambition and aspiration [are] handicapped on account of their sex, but they are everywhere baffled and mocked on account of their race." Born in Memphis, Tennessee, Terrell was an influential educator, activist, a charter member of the NAACP and an early advocate for civil rights and the women's suffrage movement. In 1896, she became the first president of the newly formed National Association of Colored Women. She taught Latin and was a principal at the M Street High School (now Dunbar Senior H.S.) in Washington, DC. In 1896, she was the first black woman in the U.S. to be appointed to a school board of a major city, serving in the District of Columbia until 1906. Throughout her life, she fought for equality through social and educational reform as well as led the fight to integrate D.C.'s restaurants in 1950, at age 86.
ABOUT SCURLOCK STUDIO:
Addison Scurlock (b. 1883-1964 ) was the founder/owner of Scurlock Studio (once located at 900 U Street, NW) founded in the heart of D.C.'s U Street/Black Broadway community, circa 1911. Scurlock captured their dignity, sophistication and style with his signature — "Scurlock look", a combination of light, shadow, posing, and retouching. Learn more about the life, photogenic work and legacy of Addison Scurlock & Scurlock Studio (Location/Map Marker no. 7) at: Black Broadway on U: Discover The Community, CLICK HERE.