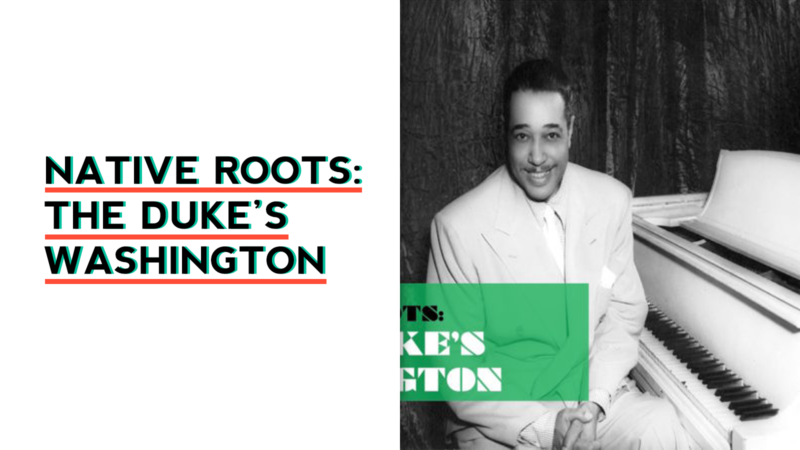 Black Broadway on U launches mobile storytelling tour, "Native Roots: The Duke's Washington."
Washington, D.C. – Monday, October 3, 2016 – The Black Broadway on U: A Transmedia Project celebrated the historic and momentous grand opening of the Smithsonian's African American Museum of History and Culture (NMAAHC) on Saturday, September 24, 2016 with the launch of its first mobile, geo-location story tour, Native Roots: The Duke's Washington on the izi.TRAVEL platform and mobile app. DOWNLOAD, APP HERE: https://izi.travel/en/185c-native-roots-the-duke-s-washington/en
The mobile storytelling tour,  Native Roots: The Duke's Washington is a part of The MuseWeb Foundation's Be Here initiative, created in collaboration with izi.TRAVEL. The tour allows museum visitors from all over the world a unique opportunity to discover via their smartphones and tablet devices the nation capital's historical and musical crossroads that celebrates the city's native son/hometown hero, Edward Kennedy "Duke" Ellington one of the greatest American composers, world-renowned pianists and music innovators of all-time. This immersive, walking tour highlights the story of Ellington's Washington from his birthplace in the historic Foggy Bottom neighborhood to the heart of the greater U Street corridor once the mecca of America's black culture aka "Black Broadway", a moniker coined by Pearl Bailey, the legendary black actress and entertainer of stage and film.
ABOUT MuseWeb:
The MuseWeb Foundation is a new nonprofit offshoot of the international Museums and the Web Conference (MW), which began in 1997. For the past 20 years, MW has showcased and documented leading work in the cultural field in a free and open archive of more than 1,000 conference papers. The MuseWeb Foundation was conceived as an accelerator of cultural innovation to help develop and fund some of the most promising projects and initiatives from the conference and the cultural heritage field at large.
Be Here is the flagship project of MuseWeb. The smartphone has become an essential tool that residents and visitors alike use wherever they go. Be Here seeks to capitalize on this behavior and offer city explorers a new way to discover the hidden culture, history, and stories of America. MuseWeb awards grants to local creators and cultural and educational institutions interested in creating and publishing geolocated content.
ABOUT izi.TRAVEL:
izi.TRAVEL enables people to use their smartphones as personal guides through new places and cultures around the world. With two million downloads, izi.TRAVEL is the most popular storytelling platform for location-based audio and multimedia guides. The free app currently features over 2,000 city tours and 800 museum guides to 900 destinations all over the world. Travelers discover the world with multilingual tours that combine art and culture with local stories, while cities, museums and tourism authorities use the free and open platform to promote their local cultural heritage. The content of the app is constantly refreshed by tourism and cultural institutions, city authorities, and passionate storytellers who want to share their knowledge and inspire others.